5 min read
The employee journey was central during the first Nmbrs knowledge session of 2018. Tom Haak, founder of the HR Trend Institute, and Mariel Dommering, Chief People Officer at Nmbrs, gave their views on the employee journey, from recruitment and retention to eventually the exit of employees. What do companies need to think about when recruiting employees? And what are their best practices to keep employees involved?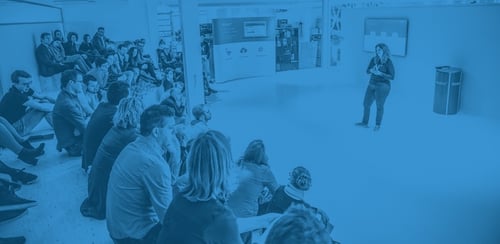 One of the most important things that companies need to understand is that HR consumerization is under way, says Haak. "People as employees increasingly expect the same from a company as they do as consumers." According to him, employers can also learn from web shops such as Coolblue, where speed and simplicity are important pillars. "They clearly thought about a user-friendly purchasing process. And they deliver fast, in some cases already the same day. "
However, simplicity and speed are just points that many companies lack in the application process, says Haak. "Only the online process often takes around thirty minutes to complete. And then we are not even talking about the selection rounds after that. Now of course you can find that a candidate should only talk about it. But why not accelerate that process if it is easier? Certainly in this market that is no superfluous luxury for employers. "
Communicate through different channels
An example of how the selection process can be made more accessible is shown in the story of Dommering. She says that Nmbrs always carries out the first job interview via a Skype call. "Three quarters of people who drop out after a first CV selection do so in response to that first interview. We search in employees for authentic, confident and growth-oriented employees. These are qualities that you can already measure very well on the basis of such a call."
Another subject where employers can learn from the customer journey in the employee journey is how companies adapt to the communication channels that customers use, says Haak. "As a consumer you can contact a company in various ways, from chatbots to social media. Employers often still try to impose that everyone exchanges information internally via e-mail or a central intranet platform. Only that way you do not prevent people from establishing a WhatsApp group. "
Know what employees want
As far as Haak is concerned, employers are also wise to gain insight into what employees are concerned on the basis of data. "Not everyone likes the same thing, or has the same ambitions. Companies such as Netflix and Spotify have been understanding this for some time and offer their users personalized suggestions based on content that they previously consumed. Employers can do that too. "To illustrate, he mentions a smart building that keeps track of where employees go and who they talk to. "Not to check them, but to take them into account when designing the premises and to ensure that facilities are in the right place."
But although data can play a major role in improving the employee journey, companies do not have to rely blindly on figures, says Dommering. "Imagine you have a cleaner in a hospital who has to clean a room five times a day at set times. There may, however, be good reasons for departing from this. If there is a patient who is deadly ill in a room that says goodbye to his family, for example. If you only look at data, that does not come to the fore. "
Mariel: "we all feel strongly that we are really doing it together."
Assessment by direct colleagues
In addition to the figures, trust in the gut feeling is, according to Dommering, also a wise lesson for managers who assess employees. Also for non-managers, incidentally, because with her employer it is completely lacking a resource management layer. Instead, Nmbrs works with multidisciplinary squads, who work on projects from different disciplines and interests. Coaches help colleagues with their personal and professional development, and the assessment is done by direct colleagues.
Dommering: "For our way of working, you as an organization need to have confidence in your employees. For us a conscious choice, which has led to good results and ensures that people are judged fairly. "The approach also leads to involved employees, she says. "We all feel strongly that we are really doing it together."
Tom Haak: tomwhaak@hrtrendinstitute.com
Website: https://hrtrendinstitute.com/
Mariel Dommering: mariel.dommering@nmbrs.nl
Website: https://www.nmbrs.com/nl/index
Do you want to visit our coming events? Go to our Events page and stay updated!