A career page or website is the face of the company as an employer. It's the first impression of its culture, people and the reality of working there. And, as you know, first impressions are crucial.
When we first started focusing on Employer Branding a few years ago, creating a careers page was one of the first projects we started. And now, almost three years later, we decided to go back to it and redesign the pages in a way that accommodated the new needs that came with our growth.
It's with great pleasure that we announce that, last week, we launched our new Career Website! We are so happy to finally see it live and have our candidates interact with them.
We talked to Candidate Experience, the squad behind this project, to understand how this project came to be.
You already had a careers website. Why did you create another one during Covid, when there is less recruitment?
This wasn't as much about creating a new career website as it was about migrating it to a different platform, and, while we were at it, improving the content on the pages. This "downtime" in recruitment was a good opportunity for us to focus on a project we wanted to develop for quite some time but didn't have the resources.
Since we started focusing on Employer Branding a few years ago, we have developed a lot of content. However, it was scattered across different platforms. It became difficult to find and give use to all of our hard work. On the other hand, based on the feedback we have collected from candidates, we also needed to create more content that focused on different parts of what working at Nmbrs means. In this sense, we needed a place that could aggregate everything, and that gave us the flexibility to create and link to even more content.
At Nmbrs, we were already using Hubspot for our main website and CRM so changing to this platform was the natural next step. It allows us:
More flexibility on the page layout and design;
More independence to edit the pages;
Consistency with the Nmbrs website and brand;
Have access to accurate and more in-depth data.
The migration to Hubspot also gave us more support from our colleagues since now we are all using the same tool. This means we can lean on each other and reach out whenever we have questions or need help.
Having so much content about the company, how did you select what to include in the career website?
At Nmbrs, because we have no managers (yes, we mention this a lot), our teams are composed of people with different roles. When we started creating these pages, we still had the Squad Candidate Experience which, for example, was composed of one recruiter, one HR intern, one designer and one Employer Branding Specialist. We all work together to deliver the best possible experience for candidates. This means that, even though we have different roles, we do different tasks that might not be directly related to our main responsibilities. For example, we all developed and wrote the content on the pages. Each word you read, each button you click or each video you see was the combination of all our input.
We don't have to reinvent the wheel. Sometimes, innovation can just be improving what we already do or just do it differently. For this project, we started with researching and benchmarking other companies that had great examples of career websites. After that, we cross-checked with a list of the topics we found most important to include, and created mockups of how the pages could look before starting the creation process.
As HR, we don't have so much knowledge about websites and marketing. Did you ask for help?
A great part of Nmbrs is its people and how open and reachable we all are. We had no idea but a lot goes into the creation and launch of a career website. From the planning to the integration with the ATS, to creating the design and user testing. We couldn't do it alone.
We reached out to different people inside Nmbrs to help us with the API integration with our ATS provider. We also collaborated with UX designers to help ensure the pages were functional and user friendly. We even did our first user tests to understand how people perceived the pages and if it contained the information they were looking for. It was great to see everyone come together to turn this project into reality. After all, we are working towards the same. We need to have each other's back.
What are the things we cannot forget when creating a career website?
It depends on the goal behind creating the career website. For us, these new pages were to aggregate all of the content we have developed so far. Videos, articles, FAQ, and everything related to working at Nmbrs.
Being a company with no managers and all of the differences it brings, means that there is a lot of information we need to share on what it looks like to work at Nmbrs. Candidates must have a clear understanding of what it implies before applying. Nonetheless, we didn't want to overwhelm them with the amount of information so we had to find the right balance.
The new Nmbrs Career Website is divided into five small pages that sum up the most important information and connect to other places that go more in-depth into each topic. That way, candidates decide what to see. They can find information such as our locations and fun facts about them, our values, culture, social media links, hiring FAQ, perks & benefits, and, of course, job opportunities. Everything we find important to know but just in the right amount.
What do you like the most about these pages?
Each page offers something different and unique. And being in a team with around 4 people makes it that we also have different tastes into what is our favourite part. Nonetheless, what we like the most are not the pages themselves (although we think they are pretty great) but the meaning behind them. The fact that we got to collaborate with a lot of people and work together to deliver something that is still consistent and looks great, at least to us. And, of course, after all of the hard work, the missteps and struggles, it's an amazing feeling to see these pages live! It's corny, we know, but so true.
Are you done with the pages?
Never! As we like to say at Nmbrs, we are almost there. Our new career website is a starting point for more and better content. Our goal is to keep listening to our candidates, develop relevant content for them and improve the way we show Nmbrs. It is always a work in progress and one that we are very proud to continue doing.
---
Curious to know how our career website looks like?
---
About the author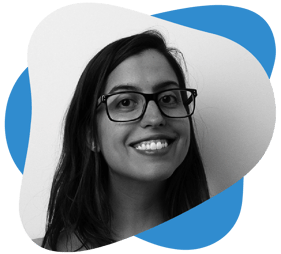 Andreia dos Reis
I'm a designer turned marketer turned Employer Branding Specialist who is passionate about helping create an enjoyable experience where candidates, employees and HR professionals are all equals. How do I do this? By talking to people. A lot of them!