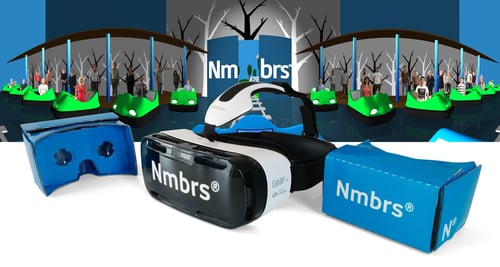 The Amsterdam-based developer of cloud applications Nmbrs® hired creative studio Captain Motion to develop a Virtual Reality experience for their new marketing campaign.
Captain Motion is the preferred supplier of the animated marketing videos that Nmbrs® is using since 2013. When Nmbrs® CEO Michiel Chevalier visited the studio in Haarlem earlier this year for a demonstration of a new concept – VR Promo – he was instantly convinced: "The combination of branded Google Cardboard viewers and tailor-made VR content seemed like a striking and effective way to market our brand."
Because Chevalier is an early adopter when it comes to innovative technology, he decided to order the concept right away. This confirmed Captain Motion's plan to start offering VR content production even before the VR era has started: "We expect Virtual Reality to take of for consumers in 2016, when popular headsets like the Oculus Rift become available, but for companies that seek innovative ways to promote their brand the technology already offers many possibilities," explains Nick Lievendag, co-founder of Captain Motion.
Designing and supplying the Google Cardboards was not a problem, because Captain Motion had already build a relationship with a trustworthy supplier. But that was only part of the project: "We see companies that just hand out branded Cardboard viewers and let their prospects find VR demos in the App Store themselves," tells Patrick Deen, also co-founder, "but in our opinion this is the 2015-equivalent of handing out branded flash drives that contain corporate videos of random companies."
When it comes to developing content, Virtual Reality is a natural extension of the 3D animations that Captain Motion has produced for years. Because VR is about experiences, the company developed a concept for Nmbrs® that gives (prospective) clients a virtual tour through a fictional world in which different aspects of the company and the software are highlighted.
Apart from Google Cardboard, Nmbrs® also uses a Gear VR headset, developed by Samsung and the Facebook-owned Oculus, to present the VR experience at trade shows. "On top of the 360° VR content, Captain Motion also installed our explainer animations and testimonial videos in the virtual cinema of the Gear VR, which enables our account managers to present these in an impressive way," explains Chevalier.
The marketing campaign is gaining traction and the first 1000 Cardboard viewers are given away quickly: "We get a lot of positive feedback and on trade shows people often return to our booth to ask for extra Cardboards for colleagues and family."
Interested parties can contact both companies for a free Nmbrs® Cardboard viewer or visit the Nmbrs® booth on a variety of upcoming fairs to experience the VR Promo on the Gear VR. It's also possible to arrange a free "Coffee & Cardboard" VR demonstration at Captain Motion.