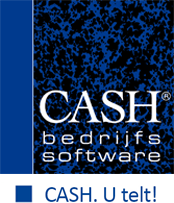 Nmbrs® integrated with Cash. Thanks to this integration there is no more need to download and upload journal entries. With the help of the webservices from Cash, the journal entries of your compagnie (or several compagnies) can be sent directly to Cash. When using this coupling the journal entries are automatically split by period and cost center / cost type.
Cash
Cash Software bv develops and supports standard financial software for SMEs. Cash focuses on entrepreneurs with affordable and reliable software without unnecessary automation ballast. Meanwhile, many thousands of organizations work with the CASH-program.
Nmbrs®
Nmbrs® is a revolution in the field of HR and payroll software. The technical possibilities to integrate Nmbrs® make us unique in the world of online HR and payroll systems. The Cash integration is available and free of charge in Nmbrs®.
For more information about associating your Cash administration with Nmbrs® please visit our support site.