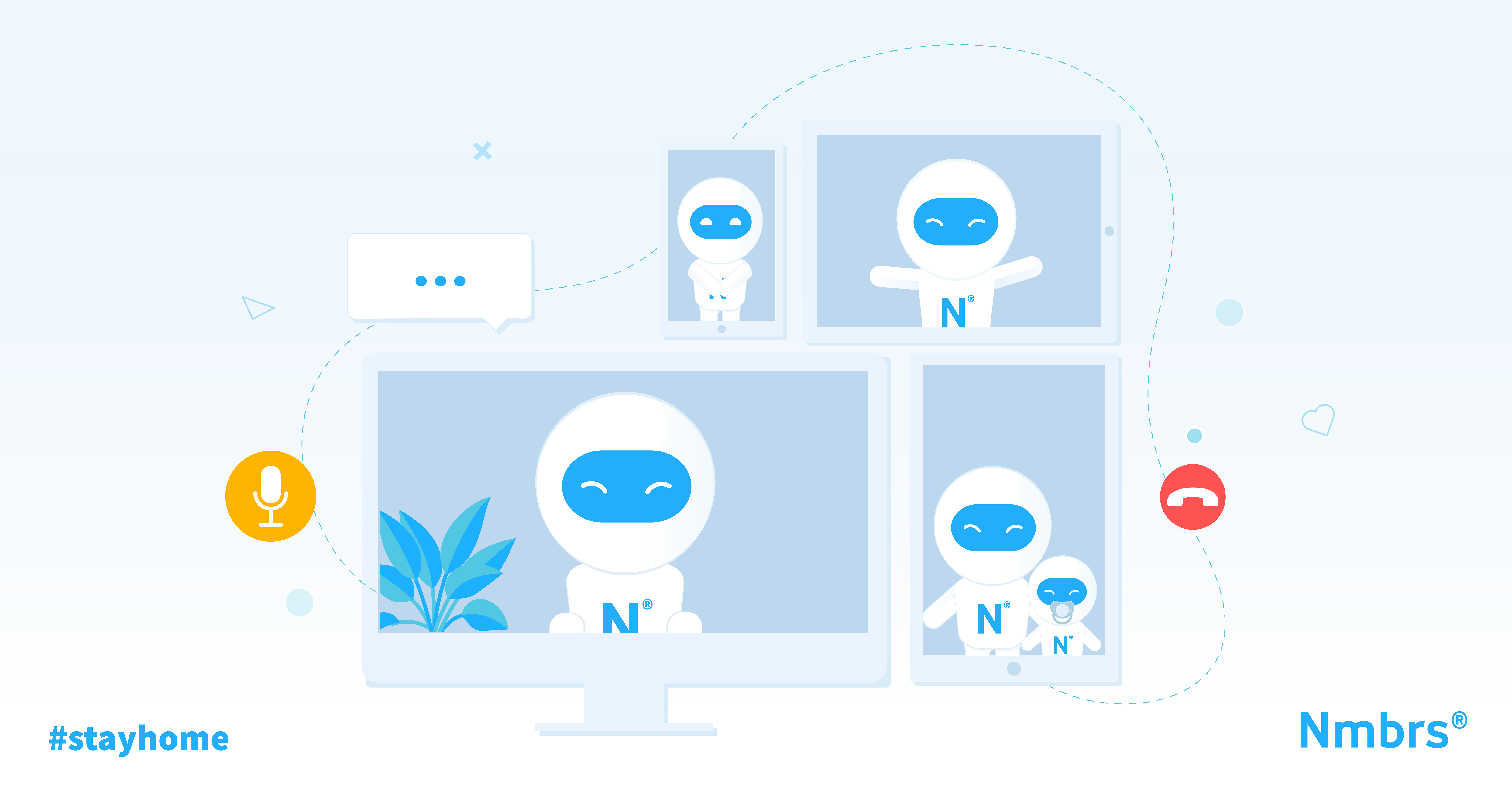 When I accepted a job offer earlier this year, I had no idea that I would start it during a world pandemic crisis nor that I would start working from an unusual place: my own house.

When changing to a new job, it can give you the chills of a new exciting adventure, but it also comes with the feeling of uncertainty. How are my first days going to be? How are my future colleagues? What is expected of me?
All of these thoughts popped into my mind before starting at Nmbrs. And of course, they reached a higher and deeper level of importance the moment I understood I would have to start this new journey physically alone!
From a new starter perspective, but also from that of an HR professional, I want to share the practices I found at Nmbrs that helped me not only to cope with this exciting remote adventure but also to master it!
Prepare a Pre-onboarding process
Companies often forget a crucial stage for a new employee: the pre-onboarding process. The new employee needs to have contact with the new company before their first day. This helps their relationship to develop and the new employee to start feeling engaged and committed. It also contributes to mitigating feelings of uncertainty or doubts towards this career change. In my case, I had to give a 60 days' notice period to my previous employer, which made it for quite a big gap until I started. How did Nmbrs deal with this? By sending me regular emails, asking me how things were going, if I had any doubts about starting. I received messages from all my future colleagues on LinkedIn and they even invited me for a virtual coffee to talk about anything but work! I was engaged before I started.
You can also take the lead reaching out to the company! There is no problem in doing that, in case you are feeling insecure or want to know more about the company or the job. It might be the case that your future colleagues are so focused on their daily activities that they don't remember someone new is joining. But you can remind them!
Develop an onboarding plan
This might be the basics for everything in life: always have a plan. Even if it's just guidelines open for adjustments. It was great that, when I entered Nmbrs, there were already meetings scheduled with different teams and people. I also knew what was expected from me during the first weeks.
In the first days, there was a lot of information to handle. Nonetheless, something I valued was the fact that Nmbrs asked me to stop working at 16h. They even put a reminder on my agenda!
The first three weeks, I focussed on my team. After that, there was a company-wide virtual onboarding week. To have this full program a bit later on, allowed me to have enough time to already consolidate some information in my mind.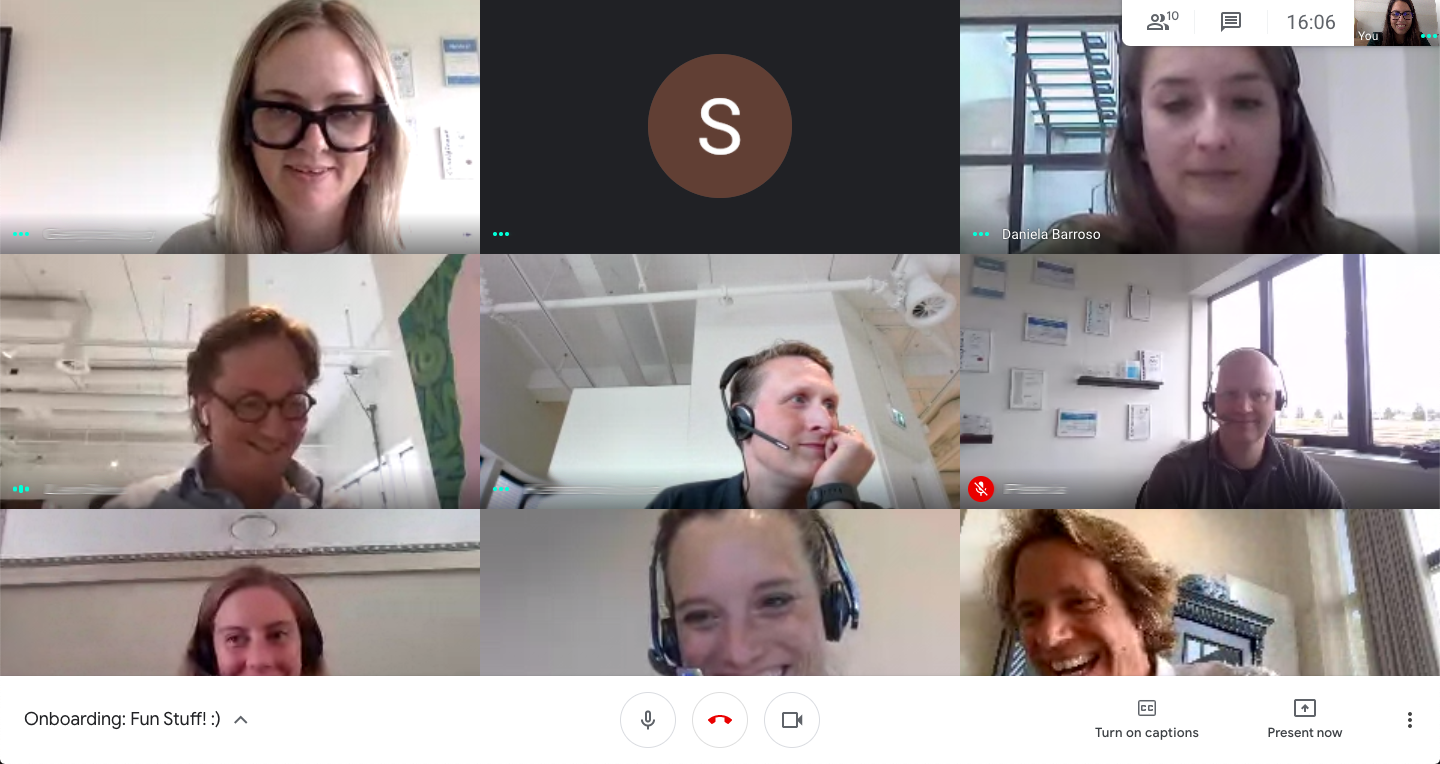 Every onboarding, we used to get all teams together and plan fun activities. Now, everything is done remotely.
Successful onboarding is a group effort
It's not only good to have an onboarding plan but also people willing to help me feel integrated, which is harder at distance. At Nmbrs, this is not something that it's only a team's responsibility and effort but also everyone's.
I still remember how important it was that so many people messaged me on Slack, our internal communication tool, just to say "Hi!" and tell me they would be there for me for anything I needed.
Next to that, my team was always available to help me! Apart from the individual support they gave me, we had daily check-in meetings (and still do), which allowed me to start learning and following up topics.
Finally, I valued that I had a mentor when I joined the company! My mentor is one of my team members. She also played an important role in my integration, not only in work-related topics but also following up, helping me to get to know the company itself, providing some guidance and helping unblock some issues or simply facilitate some processes.
Set operational Logistics
Being provided with good resources is essential when working from home, and even more when onboarding someone remotely. I don't mean only the technical resources, such as having a laptop delivered to my house or some headphones, etc.
When talking about providing good resources to a new employee, I'm also talking about information. I was not going to be physically side-by-side with my colleagues for them to explain to me everything about each process. It was important for me to have good and detailed documentation, easy to find and easy to read (Nmbrs loves videos!). That way, I could set my plan of training, and find a lot of information without any dependence on other people while knowing I could get back to it anytime I needed.
Organise social activities
When working from home, you lose the opportunity to meet at the coffee machine and just chit chat about the weather or the type of coffee you drink. Scheduling a virtual drink with anyone can be scary as it immediately feels more like a formal meeting. For me, it was great that there were daily online activities, in which everyone could participate. Whether by having Pictionary sessions, discussing our favourite books, finding out how to bake pancakes or practice yoga. I also enjoyed the virtual drinks on Friday where we played online games together!
You have to be proactive
There's one additional point that was important during my onboarding in the company: my motivation. Since I didn't have someone next to me to approach and get instant feedback, I had to dedicate myself to research, go through documentation, tools, processes. At the same time, I had to take the responsibility in keeping my colleagues informed if I needed something, if I had finished what I was supposed to do or ask for more materials or tasks to work on. I had to speak up, make a lot of questions and be proactive. If you don't speak your mind, you make it more difficult for your colleagues to help you. After all, they're not seeing you as well.
I can confidently say that I feel well integrated at Nmbrs. I recognize that starting at a new company, besides bringing uncertainty, is even harder remotely and it takes a bigger effort from everyone.
But hey, your colleagues are also working remotely, so we are all in this together!