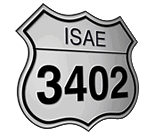 We proudly announce that Nmbrs® officially features an ISAE 3402 type I report.
The ISAE 3402 report contains a description of the, for the users, relevant processes and the management measures in the context of reliable data processing.
Auditors have tested the design and existence of the management measures within both the management processes as well as the application Nmbrs® and have issued a so called assurance declaration as part of the ISAE 3402 report.
With the release of the ISAE 3402 report we confirm the quality and reliability of our internal management organisation, processes and management measures towards our users.
There are two types of ISAE 3402 reports: a Type I and a Type II report. Nmbrs® now has an ISAE 3402 type I report, which refers to the design and existence of her processes and management measures per 1 December 2013. At this moment we are cooperating with the auditors in order to deliver an ISAE 3402 type II report. This type II report also contains, apart from design and existence, the effective functioning of processes and management measures during a certain period.
Inspection of the report
We offer our users the possibility of inspecting the ISAE 3402 report at our office in Amsterdam. To do so you can contact our sales department via sales@nmbrs.com or by calling +31(0)20-5849601.