Paying attention to how our employees are seen and heard as soon as they step through those office doors or open up their laptops is an essential way of retaining talent and attracting new, unique ones. But more importantly, it enables us to be front players in the creation of the workplace of tomorrow: A place where we can feel safe and seen, and by that, to be given a chance to fully excel in our roles.

However, this can mean more than adapting a visual or adding a tagline to your brand a few weeks per year. Even though those efforts also play out their part by disassembling previous stigmas in the common ether and, as a result, transforming previous issues to become more of a commonality in our society.
It has always been employees first at Visma Nmbrs, but we do not only want to empower our employees through efficiently unrivaled digital tools. With the inspiring celebrations of Amsterdam Pride, we saw it as a chance to take a step back to look at our current internal processes and communication to see where we can improve and to emphasize what we're already doing well. As we have seen in our observations, we still have a long way to go, but we are eager to improve and advocate for a more diverse and inclusive workplace!
Let's dive into some of our current tips on how to make employees feel welcome at the workplace, and let's get inspired to create new and even more innovative ways for the workplace of tomorrow!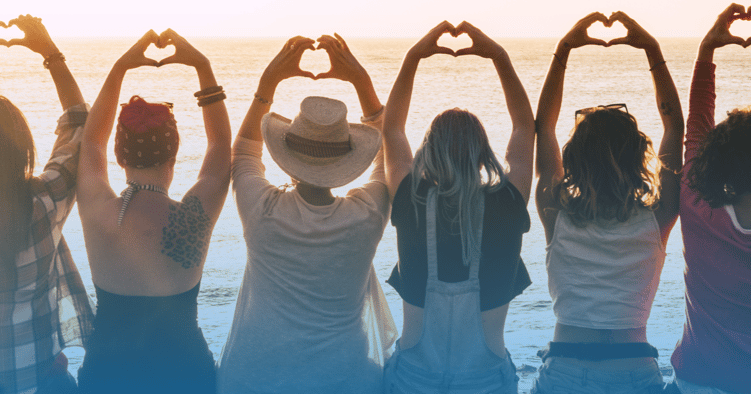 Tip 1: What words do we use?
As John Powell once said: "Communication works for those who work at it" and it's a vital component of how to make employees feel more welcome in the workplace. Take a step back and look at your external and especially internal communication. How do you utilize inclusive language in your organization, and what do your employees miss from your current one? Anonymous polls are a great way to start exploring what could make your employees happier and feel more included.

Do you already have the needs of the organization down to a T and want to put some extra effort into how you address people in writing? As a recent example, we have slowly started adding gender-neutral pronouns in our internal communication for forms and surveys. A small and simple addition that can make more people feel seen and included!
---

"You cannot get the full potential of people in your business if


people have to hide who they are.




And cannot contribute to the organization




because they are scared of the impact it will have on their career progression."



Alan Joyce – CEO of Qantas Airlines

---
Tip 2: What visuals are we showing?
Taking care of your visual language internally and externally has a great impact on representation and inclusion. For example, at Visma Nmbrs, we started to pay more attention to what type of people we usually put at the forefront of our videos or in our pictures on our blogs and in our white papers and started to include the people who were missing. This could mean anything from different genders to ethnicities or ages. Pictures do speak more than words. Soraia de Almeida, Visma Nmbrs very own digital designer, explains some of her thought processes around visual language:
"In my job, as a visual designer, I am always trying to find ways to make employees of Visma Nmbrs feel welcomed. Imagine walking in on your first day at a new job and being greeted by a branded box of merchandise: just for you. When we created our new hire welcome-kit we made our new joiners feel wanted and needed, it is a way to tell them that we are happy to have them on board, and at the same time, we are helping them to reduce feelings of stress that might come with starting a new job. Our mascot, Numbee, is also a crucial element of our brand. Numbee is the storyteller of our brand. When I was challenged to create a mascot, I knew I had to make it as human as possible (even though it's a robot) with a friendly face, cute eyes, and arms that give virtual hugs. That creates an emotional connection and feelings of trust with the company. Another thing also important to me when creating social media graphics and banners is to try as much as possible to include pictures that showcase the real people in our organization. That's why we invest so much in having photographers at our events. Not only do we have good memories for the future, but also amazing material for visuals."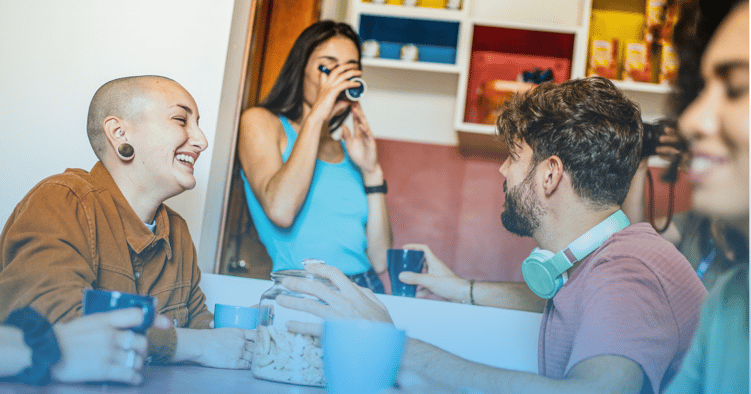 Tip 3: What culture are we growing?
At Visma Nmbrs we work hard on our work culture to keep its integrity of open-mindedness, respect and kindness, and it begins with trust. Showing that you put trust in your employees encourages ownership and responsibility, and when we become leaders we know what we say and do creates an impact, making us more connected to our surroundings. Being in tune with your workplace triggers a sense of purpose and with that an environment that encourages positive change. If we are given the chance to create positive change, most of us take it. But it requires trust from our employers, which is why we work in a hybrid model with no managers at Visma Nmbrs.
Second to trust, it is important to create safe spaces for your employees by having easy access to someone to turn to. At Visma Nmbrs we assign you your own Employee Experience Specialist and Personal coach, which makes it easy for you to turn to someone in everything ranging from practical needs to emotional support.
Lastly, in order to create a welcoming and inclusive workplace, we need to attract a wide range of talents that will help us create the workplace of tomorrow. Linda from recruitment explains:
"At Nmbrs, we are proud to foster an open and inclusive culture and work environment. Our focus in recruitment is to confirm that this multicultural, open-minded, and respectful environment is here to stay. To do so, we have two tricks that help us on the way.

First: In our application processes, we use a platform called Equalture that uses neuroscientific games to help remove any form of unconscious bias from the hiring process and helps us promote diversity, inclusion, and equality.

Second: We start each hiring process with a Cultural Interview: purely focusing on finding a candidate that fits our culture but also determining that Nmbrs is the right place for the candidate. Who you recruit directly impacts the company culture, and therefore, we look for three main things in our candidates to continue the culture we have at Nmbrs: responsibility, authenticity, and growth mindset."
By looking at the words you use, the visuals you display, and the culture you grow, you can create the workplace of tomorrow and make your employees feel more welcome in the workplace. We hope that you got some inspiration from our tips and encourage you to share your thoughts, wishes, and ideas so that we keep on learning and inspiring each other. Let's enjoy the ride - together!
---
Interested in joining an international company with no managers?

---