9 min read
We recently celebrated the recruitment of our 100th employee. So we think that now's the time to take a good look at our recruitment process and get to understand the journey that candidates make, from that very first moment that they became interested in Nmbrs.
Nobody doubts that the hiring process is an essential part of maintaining an organisation's value and fuelling its sustainable growth. An amazing hire will have an extraordinary impact on the organisation, while a bad one can have negative repercussions for many of its variables. But what we must also remember is that it's not easy for candidates either. In selecting a new employer they too will be taking a substantial risk and we fully appreciate their position. So, to minimise possible disappointment, it's vital that both sides share the same mindset.
Let's look a little closer at why we care so much about the recruitment process.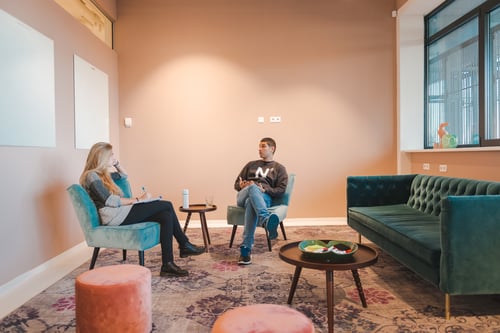 Everyone's involved
First of all, we're all different. If you work in an Agile environment, one without managers, it's perfectly obvious that diverse ways of thinking and different backgrounds and life experiences will enrich the conversation. When there's a problem, the fact that we can fall back on so many different ways of thinking will really help us find the right solution.
Hiring the best people is important for every company, but for us it really makes a huge difference. At Nmbrs, everyone's opinion is an essential part of our company's decision-making process. It's therefore important that each and every employee is fully aligned with our values and a good fit in our team. At the end of the day, every single one of us defines the future of Nmbrs. To make sure everyone wants to be a part of what we're trying to build here, we simply must keep improving our recruitment process.
At Nmbrs we still have a lot of growing to do and to help us realise that growth we want to facilitate a journey for candidates that will allow everyone to understand one another. As an employer, we want to make sure that you'll be a good fit with our team, while as a candidate you'll want to be sure that Nmbrs will be a good fit with your abilities and personal values. You might well have the necessary background, technical skills and soft skills, but the Nmbrs fit is at least as important! We want our employees to be happy and we also want our candidates to enjoy the ride towards becoming an employee. At the risk of sounding like a saleswoman here, I cannot overemphasise the fact that we value our employees, even before they become employees!
One of my favourite things about Nmbrs is how our values and mision are visible in every little thing we do
Taking our mission and vision a step further
At Nmbrs our HR vision is all about giving our employees the best-possible experience. We're moving towards a situation in which we can provide a personal, but scalable, easy and efficient journey to all our users (accountants, HR, employees, etc.). This same vision is also applied to our internal processes. I suppose you could say we practice what we preach!
One of my favourite things about Nmbrs is how our values and mission are visible in every little thing we do. Our company values are more than just empty promises, only to be applied in one part of the organisation. They guide our actions in everything we do as a company: from providing a pleasant experience for our customers, to defining the value proposition of our product and to the way we build our team.
Adding our values to the recruitment process
Through external communication, employer branding and our recruitment processes, we're showing the candidate who we are, what makes us different, and how we see the world and our work. In effect, we're closing the gap between the idea of working at Nmbrs and the reality of it. And one of the ways that we do all this is by also applying our values to the recruitment process itself.
Independent


We believe that the recruitment process must take all aspects into account. Everyone's voice is equally important. If something is not clear, just ask. There's no such thing as a stupid question! We want to empower our candidates to choose what will enrich their lives.

Cool & humble


We have our own way of interacting with people. We like to talk to them and, above all, to listen. We want to hear what they have to say. Do you believe in relationships that are based on distrust and a lack of transparency? Of course you don't, and neither do we! That's why when people talk to us they get honest answers. Authenticity is just a very Nmbrs thing.

Enjoy the ride


We always give feedback to our candidates. We believe that when questions, doubts or concerns arise, you need to know who you can talk to. At Nmbrs, there is always someone available to help you during the recruitment process. Again, ensuring that you will have the best-possible experience.

We trust people to do the right thing


We are Agile and we work in a no-managers structure, which means we don't have a "decision centre". We trust everyone involved in the recruitment process to make the right call. And this includes, of course, the candidate.

We're now starting to apply Agile methodology to our recruitment process, by designating a hiring team for every job vacancy. By doing so we are ensuring that:
the candidate is seen by everyone who's involved in the recruitment process;
the candidate has the opportunity to get to know and evaluate Nmbrs at different levels, including the company culture, the team and the job itself;
we can monitor the candidate's potential fit with Nmbrs every step of the way.
Like in any Agile team, we're responsible for the product, which in this case is the recruitment process. We therefore have meaningful discussions with the teams that will work side-by-side with the candidate.
So for us it's not solely about hiring the best people; it's about hiring the best people for Nmbrs.
Scalability
We want to keep our processes scalable and personal. The question is, however, how can we do so while making sure we remain true to our culture? The answer can be found in several areas. By using better targeting, sharing inputs with the candidate in a more structured way, being smarter and using our historical information, we are securing the continuation of our culture and our values, while fuelling our growth at the same time.
Almost there
At Nmbrs, we're never satisfied; we always want to do more. This means that, in our perception, perfection is something that will never be attained. When we realise a goal we also realise that there are more goals to achieve, as well as other countries to serve. Not being easily satisfied is just part of our DNA.
So for us it's not solely about hiring the best people; it's about hiring the best people for Nmbrs. For candidates, meanwhile, it's about ensuring that Nmbrs will be the best fit and choice for them. Our recruitment process must take all these factors into account, a complete Nmbrs experience that's full of the little things that make us who we are. At Nmbrs we've aspired to have fun from day one. Being cool with it has been an added and welcome bonus!