The name PvExpert originated from a combination between the initials of Patricia van Es, and her expertise in the field of payroll administration, Payroll Administration Expert. Patricia has been a valued Nmbrs® user since 2012, and we were wondering, how does she experience this collaboration?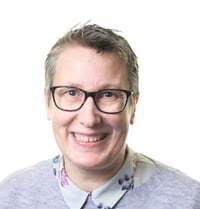 You started PvExpert in your attic about ten years ago because you wanted to change the status quo in processing payslips. Respect for and service to your customers are two essential values in the way you offer your services, why is that?
To correctly process payslips on time, I need to have all the input from my customers. To be as open as possible, people also feel free to be open to me. Previously I worked in accountancy, and that is all about billable hours. As a result, customers are often less inclined to make a call if they have a question. For example, I recently had someone on the phone who told me that he changed positions and now works as a supervisory director. For him, it maybe looks like a small administrative change, but actually, it takes several adjustments to process this change in the payroll administration. That is why clear and open communications are two of our unique selling points. Not only because it is pleasant for the customer, but in this way, all crucial information I need always comes in on time.
You are an early adaptor when it comes to working with Nmbrs®. How did that happen?
At the time, I processed just three payslips. However, Michiel, the CEO of Nmbrs, approached me to come over for a sales demo. I thought it was nice that despite the small number of payslips, I still got plenty of attention. Once we started the demo, within five minutes, I was sold. The fact that you can drag and drop dashlets and you can customise almost the entire platform to your preferences was a relief. For me, it is evident that Nmbrs® always takes the end user as its starting point, which is something that I also attach great importance.
What do you think is the power of Nmbrs®?
The moment I talk to a potential customer, the software sells itself. People are often used to the somewhat complicated, unwieldy and complex applications. With Nmbrs® we can design the software entirely according to the needs of the customer. Also, navigating is easy, which makes it very pleasant to use.

We notice that our customers often grow thanks to the use of Nmbrs®. Have you experienced this yourself?
Yes, with the workflow you can automate quite a few standard tasks. The platform focuses on efficiency, leaving you more time for the strategic side of your business. However, it is not entirely perfect of course; in some cases, you still have to process things manually. Besides, I like to be in control myself, so I prefer not to have all tasks automated without someone performing the final checks.
We also believe that as a user you should always be and stay in control. To wrap it up,
is there something that, in your opinion, typically defines Nmbrs®?
I have noticed that Nmbrs is not afraid to admit an error. They see the imperfections of the application and are updating it continuously. In my opinion, this is what leads to success and ensures that this software has the future. After all these years I am still a satisfied customer, and I have never regretted it for a day.
Well, that's nice to hear. Thank you, Patricia!